11 juin 2013
2
11
/

06
/

juin
/

2013
16:44
We will see now, in this serie about Static IPv6 Networking, how to bring and use Internet Connectivity, ie Global Unicast addresses.
As ISPs have different ways of setting up IPv6 connectivity to the CPE, we'll use Hurricane Electric tunnel. It's free, easy, and everybody will be able to reproduce the exemples I'll describe.
Here is the topology used :

I had no problem creating the tunnel behind 3 home routers + CPE inline ( CPE+Router 1+Router 2+ Router 3 )
So first, let's setup a HE ( Hurricane Electric ) tunnel on a Windows PC
Hurricane Electric Tunnel setup on a Windows PC
To setup a HE Tunnel, first your CPE or Router-Modem have to be able to respond to Wan ping from the outside.
Setup corectly your CPE, x-DSL Router-Modem, for answering outside Wan ping.
Then, go to Hurricane Electric webpage.link
Do a quick registration and login with the account you created.
Then click the ' Create Regular Tunnel ' Button on the left of the page :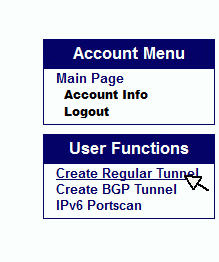 The next page gives a hint about our IPv4 public IP ( ie CPE Wan IP ).
Enter it in the box above, and choose a Tunnel Server close to your geographical location.
In case of doubt, use a ' what's my IP ' webpage to check your public IP.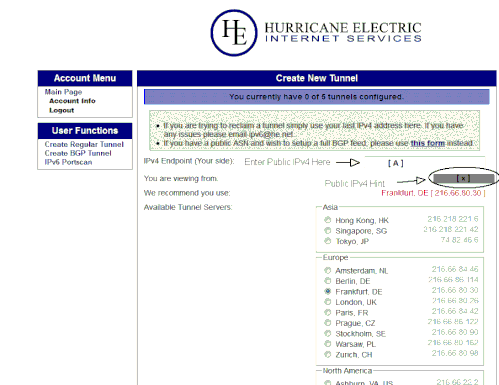 Click then ' Create Tunnel ' at the bottom of the page.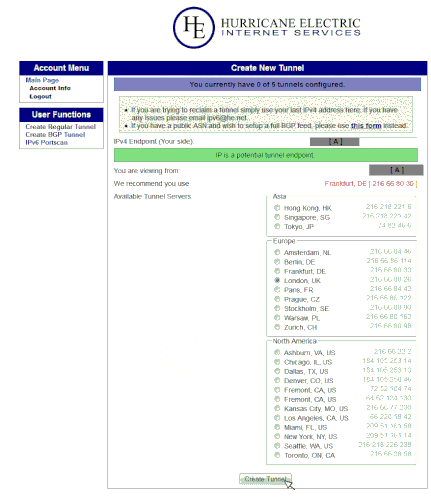 Our Tunnel is now created. Copy the Tunnel Informations displayed to you :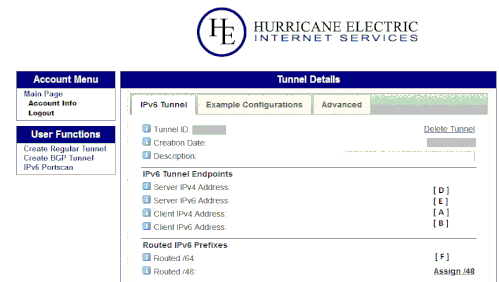 We need the Server IPv4 and IPv6 Addresses ( [D] [E] ) as well as the client IPv4 and IPv6 Addresses [ A ] [ B ].
One important note here : If your Client PC is behind a NAT-ed CPE ( ie xDSL router-modem ), like the vastest majority, then we won't use our Public IPv4 IP ( [A ] ) but our PC Private IP. Do a quick ipconfig to check your IP.
Once the tunnel is created, we can logout of the Hurricane Electric page. The tunnel will remain, even if you reboot your PC.
Client PC Setup
We need to enter a few lines on the client PC. They are :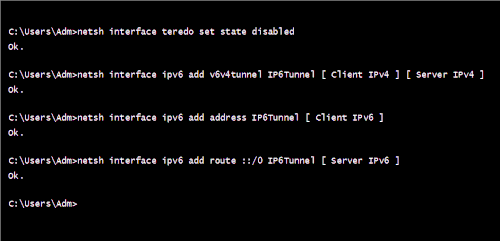 Replace [ Client IPv4 ], [ Server IPv4 ], [ Client IPv6 ] and [ Server IPv6 ] with the correct values and don't use brackets.
Remember to use your PC IP for [ Client IPv4 ], which is not your Public IP most of the cases.
These settings are persistants, and will remain after reboot. See below for how to delete them.
Let's add IPv6 DNS Servers. Here are some DNS Servers :
OpenDNS IPv6 : 2620:0:ccc::2
2620:0:ccd::2
Google IPv6 DNS : 2001:4860:4860::8888
2001:4860:4860::8844
On the Tunnels Details page of our Hurricane Electric Tunnel, there are som IPv4 and IPv6 DNS Servers provided too.
Go to network and sharing center ) Configure Network Connections )
Right click over your Network Adapter ) Properties ) IPv6 ) Properties
You can manually enter the IPv6 DNS IPs here.
Internet Connectivity tests
We can now try our IPv6 network connectivity.
We can type tracert -d ipv6.google.com
these web sites are good tests too :
http://ipv6-test.com/ link
http://ipv6-test.com/speedtest/ link
http://test-ipv6.com/ link ( very complete )
Beside all these, there is a neat Firefox plugin to try :
www.hunen.net/4or6/ link
That's it. Just remember that you are not behind a CPE firewall IPv6 wise.
You're essentially trusting your OS firewall. We'll see the firewall / security issues later on this blog.
Deleting the tunnel and the PC tunnel setup
To delete the Hurricane Electric tunnel, login to your account. There is a list of your tunnels down the page :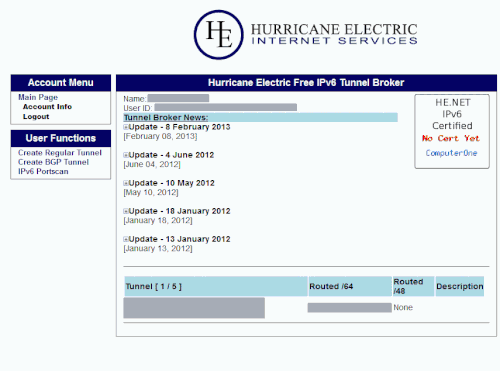 Click on the tunnel you want to delete, to access the Tunnel Details page, and click delete :
To delete the tunnel setup on our client PC, we will reverse the setup :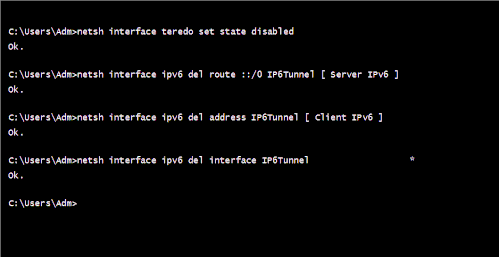 A little more network topology

For those interested, you can trying to tracert the Server IPv4 address :
tracert -d [ Server IPv4 ]
and compare it with the Server IPv6 address :
tracert -d [ Server IPv6 ]
as we're tracing the route between the same hosts, you can really get a feel of the tunnelling effect, as there is many physical hops, but the IPv6 tunnel make it appear like a direct link.