23 juillet 2013
2
23
/

07
/

juillet
/

2013
14:49
We'll see here how to setup a public accessible Web Server using Windows Server 2008 R2, the nework settings, and DNS issues, with a special focus over IPv6

Our web server will have the GUA 2001:db8:4b17:2::200 for this exemple.
Here is the network map :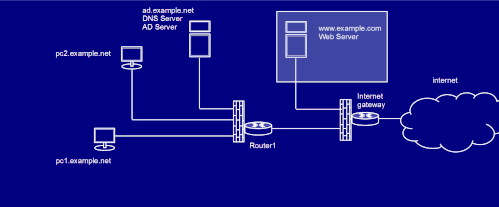 Web Server Installation
First, we add the Server Role in the Server Manager :

Add Roles ) Web Server ( IIS ) :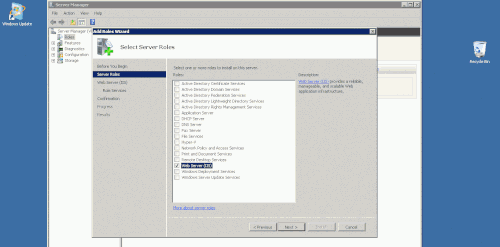 We can leave all the default optionst.

The server manager automatically creates an inbound rule for HTTP ( TCP port 80 ) on the Server :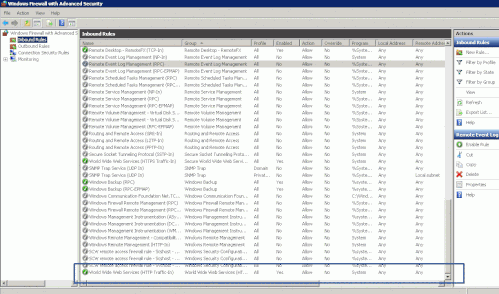 We can test the default website from our client PC ( PC1 ), typing its IPv6 address in brackets in the browser :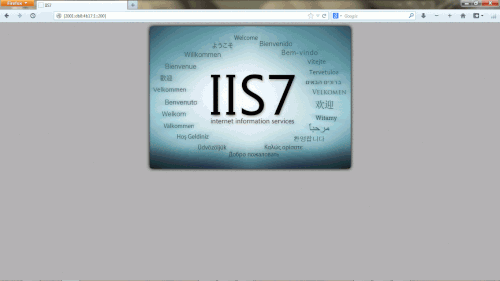 FQDN Resolution

Here we want our web server to be accessible by its FQDN ( www.example.com ). There are 4 options here:
1. Use our host file :
. not very convinient
. no public name resolution

2. Use a local DNS Server not authoritative to the Internet :
. no public name resolution

3. Use a local DNS Server authoritative to the Internet :
. too heavy daily management task, not suited ( see previous posts )

4. Use our registrar of example.com, and add an A and a AAAA record :
. light task, suited
. public name resolution

The last choice is what we want to do. This way, the admin task is light, public access to our web server is possible thanks to its FQDN being resolved on the Internet, and our local network PCs can resolve its name by regular DNS querry out to the Internet ( DNS querry forwarding in our local DNS Server ). ( more infos here : Domain name choice and design for DNS and Active Directory setup )
The network / DNS maps looks like this then :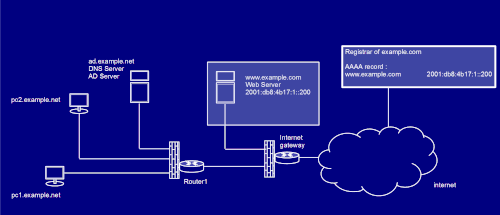 We just have to login in our registrar web admin page :
. we clean any A, AAAA, or CNAME record refering to www.example.com
. we add A and AAAA records for the host www.example.com :

A record : www.example.com [ Public IPv4 Address ]
AAAA record : www.example.com [Web server IPv6 address ]

We just have to wait a little while to the changes to propagate in the DNS servers of the Internet, untill we can check the name résolution is right :

nslookup www.example.com
Internet Gateway setup
We have to do a port forwarding at our Internet Gateway, to forward port 80 ( HTTP ) to the private IPv4 of our Web Server, if we want the Web Server to be reachable over IPv4.

We too have to create an IPv6 firewall rule, so to allow IPv6 port 80 to pass through the IPv6 Firewall :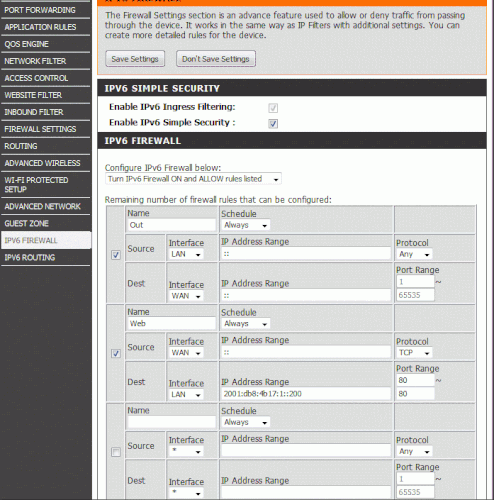 Web Server websites management
The default website is at :
C:\inetpub\wwwroot\


Using the server manager IIS Manager, we can add websites, manage them, their listening IPs and their listening port.
Remember that an [ IP address/port ] combinaison can be used by only one website.
as an example, to add a site :
To stop a website :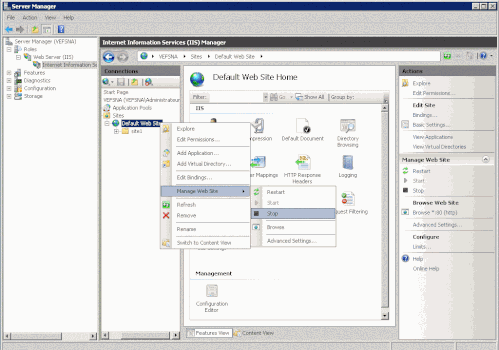 To edit a website bindings ( IP / port combinaison ) :